The Ministry of Agricultural Policy and Food is being restored in Ukraine – the department should start working by February 1.
The relevant Resolution No. 1344 of December 28th was adopted by the Cabinet of Ministers. This was reported on the "government portal".
Therefore, the Cabinet of Ministers decided to overturn the decision to restructure the Ministry of Agriculture by joining the Ministry of Economic Development, Trade and Agriculture.
The Ministry of Economy and the Ministry of Agricultural Policy were also instructed to prepare and submit to the government within one month:
Draft regulations on the relevant central executive authorities;
Proposals to amend the legal acts resulting from the resolution.
The head of the new department, Roman Leshchenko, said that there are still many tasks and challenges to be overcome.
"This is the development of an effective strategy for the development of the industry for the next 1
0 years and the ongoing movement of land and agrarian reform, the introduction of a transparent state register of budget support recipients, the introduction of full-fledged agricultural insurance, a comprehensive solution for that Problem of irrigation and attracting investment for such projects, solving complex challenges related to biosafety and food quality, "he wrote on Facebook.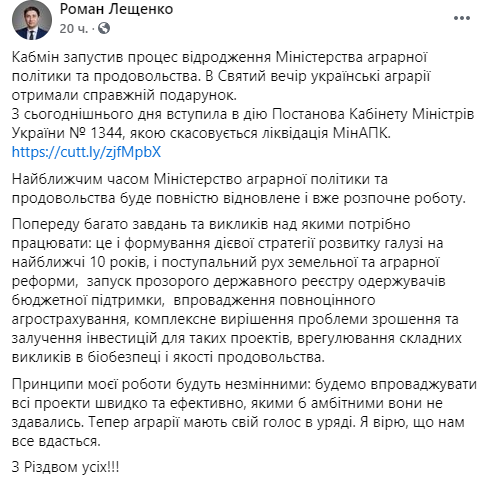 As Obozrevatel.com had already reported, on December 17th the Verkhovna Rada supported the appointment of the head of the State Service of Ukraine for Geodesy, Cartography and Cadastre Roman Leshchenko as Minister of Agricultural Policy. He has already taken the oath.